Model MAT 15-20*, MAT 15-40* and MAT 100-10
(* Covers shown are for shipping purposes only.)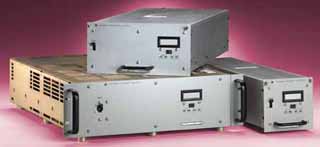 Kepco MAT are linear power supplies that are oriented to systems applications. Their principal control means is a 2-wire, long range, serial bus, Kepco's single address, multiple instrument bus. As many as 27 power supplies, including models in the Kepco MST, MBT and BOP series may be "daisy-chained" on this bus and interfaced either to IEEE 488.2, a PC bus, or to a VXI host.
MAT are produced in three sizes: 360W, 720W, and 1080W. The two smaller groups plug in to appropriate rack adapters and may be replaced from the front. The 360W models are 1/3 width. The 720W models are 2/3 width. The 1080W models are full rack size and mount directly in a standard 19" rack. All models are MIL-STD-461 compliant.
MAT front panels provide local status monitoring and on/off control. All setting controls and read back are via the serial bus. The interface between this bus and common host controllers is via devices called TMAs.Local manual control is also available as an option.
TMA 4882-27 is a 1 3/4" high rack mount instrument that provides interface to the GPIB (IEEE 488.2 or RS 232). TMA 4882-27 supports IEEE 488.2 and the SCPI language.
Model TMA VXI-27 is a gateway to the VXI world. The unit is a single width size C instrument that plugs into a VXI cage and will drive Kepco's serial bus to control the power supplies "daisy- chained" thereon.
EPICS Driver

(Linux compatible)
now available!
Programmable MAT's are complemeneted by locally adjusted MAT's. All MAT models are available factory-configured for local adjustment. The locally adjustable models are ideal for fixed output applications. All MAT models are pluggable for easy configuration and maintenance. Contact Kepco for more information.
MAT are CE Marked per the LVD, EMC and RoHS 2 Directives. See applicable Declaration of Conformity.