CURRENT SENSING RESISTORS
Provide voltage drop proportional to load current. Choose the resistor which provides 0-0.2V full scale for current of the power supply being measured.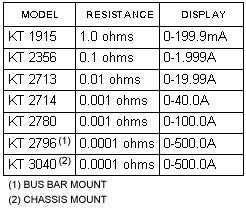 ---
ACCESSORY POWER SUPPLY TO ENERGIZE DVMs
MODEL DMS 2X9
Mounts internally, powers 2 DVMs.
---
RACK ADAPTERS FOR 24" "RACK CABINETS"
MODEL RA 73 -- 3-1/2" panel height
NOTE: Custom front and rear panel elements required.

MODEL RA 74 -- 5-1/4" panel height
NOTE: Standard front and rear panel elements fit in this rack adapter.

MODEL RA 75 -- 1-3/4" panel height [SEE DRAWING]
---
CHASSIS SLIDES*
* For other chassis slides, please consult factory.
---
LEGACY ACCESSORIES - EMI FILTERS
For extra attenuation of conducted EMI as required.
Recommended power supplies offer the following levels of internal filtration:

MODEL:

ECM: FCC B:
ERD: MIL STD 461
ERX: FCC B
FAK: FCC B
FAW: FCC B
FCP: FCC B
HSM: FCC A
JBW: FCC B
KRW: FCC B
RAX: FCC A
RCW: FCC A
RKW: FCC B

Available Filters
---