NOTE: DPS Power supplies are no longer available.
Please refer to Series ABC for equivalent replacements.

The Series DPS Operator Manual is still available for download (free) from Product Support.
Model DPS-25-3M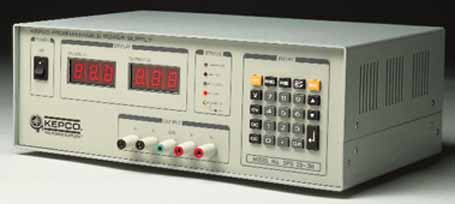 These keypad-controlled power supplies provide 75 Watts of well-behaved d-c power in four ranges from 0-12.5V to 0-125V.

DPS is controlled by a convenient front panel keypad that commands a built-in microprocessor to set voltage, current limit, range, OVP, displays and over-current protection.
Two voltage ranges are provided. The low voltage provides increased output current.
Remote talk-listen control is exercised via a simple RS 232 connection that may be addressed in BASIC or most common languages.
Keypad SLEW controls permit continuous adjustment of the voltage up and down for fine adjustment while the output is enabled.
Separate large-character LED displays are provided for both voltage and current. Output and sense binding posts are located on the front panels.
Rack mounting of the Series DPS is accommodated by the RA 56 rack adapter.

Kepco's
'Digital Highway' illustrates the interconnection of Kepco Products, including DPS Series.