NOTE:
ECM Models are no longer available.
See Kepco's Series MTW for comparable replacements.
Model ECM 021K-CB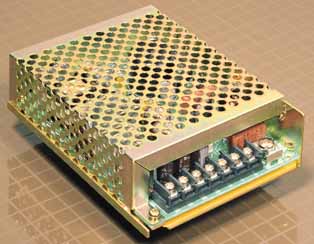 These are triple output, 16 Watt metal enclosed switching power supplies featuring simplicity and high reliability.
FEATURES
a-c input 85-132V; d-c input 110-170V.
Adjustable voltage: (+5V) set by internal trimmer.
Auxiliary outputs: (±12V or ±15V) use 3-terminal stabilizer.
Holding time: Output is sustained by internally stored energy for 30 milliseconds typically, 20 milliseconds minimum.
Built-in EMI filter attenuates conducted noise below the requirements of FCC Class B.
Metal enclosure reduces the radiated noise and provides protection.
Safety: All models recognized by UL, certified by CSA.