Models shown with optional covers installed:
210W Model (top), 150W Model,
100W Model, 50W Model (bottom)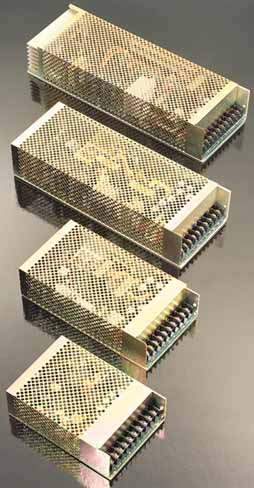 These four output L-chassis switching modules are available in four convenient sizes: 50, 100, 150 and 210 Watts. All models have a +5V principal output; two auxiliary outputs which may be either +12V and -12V, or +15V and -15V; and a fourth output which may be either +24V, -5V or +12V.
FEATURES
Active soft-start circuit: Limits a-c turn-on surge.
Adjustable voltage: (+5V) set by internal trimmer. All of the outputs track the +5V setting.
Overvoltage protection: Power is shut off if the +5V is forced beyond the set limit.
Holding time: Output is sustained by internally stored energy for 30 milliseconds typically, 20 milliseconds minimum.
Built-in EMI filter attenuates conducted noise below the requirements of FCC Class A.
Safety: All models recognized by UL and certified by CSA.
Connections: Input and output connections are via screw terminal barrier strip.