NOTE:
FAK Models are obsolete. Availability is limited to factory stock, however modern replacements are also available.
To make the transition to our latest power supplies easier, Kepco's adapter plates allow the use of existing mounting holes (no drilling needed) - ideal for field replacements and upgrades. If note (2) does not list the one you need, contact Kepco.
Kepco can provide drop-in replacements for any FAK's that need to be replaced. Below is an example of Kepco Power Assembly 27586, a drop-in replacement for a 300W RKW 12-27K.
The Family of FAK Models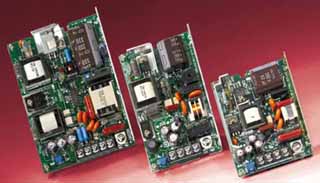 Ultra compact designs for domestic (115V a-c) applications: 15, 25 and 50 Watts all under one inch thick. UL recognized, CSA certified, onboard FCC class B EMI filter. Optional metal enclosure.

FAK are low-profile single output power supplies packaged in an L-chassis format (open) for domestic North American OEM applications. They operate from 115V a-c mains only or a 110-170V d-c bus.

For similar products designed for wide range a-c input, please see the FAW series.

FAK can be individually installed as open frame or optionally enclosed power modules. Enclosed power modules can be mounted to a DIN rail They may also be combined into a custom power assembly for multi-output requirements.
WEIGHT (Packed for shipment)
15W: 5.60oz, 160gm
25W: 5.98oz, 170gm
50W: 8.80oz, 250gm