Models RA 24 and RA 37 are for power supplies and programming interfaces.
RA 24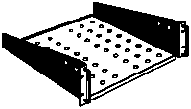 RA 24 Rack Mounting System, consisting of a mounting drawer with predrilled bottom, for all quarter-, half-, and three-quarter-rack power supplies and programming interfaces. Sides accommodate Jonathan Slides 110 QD 20-2, 22-2 and 24-2, or equivalent. Mounting of power supplies in the system employ coarse threaded (8-18) screws into nylon expansion bushings provided for that purpose on the bottom of each power supply. A variety of filler panels are available to complete the installation. The RA 24 occupies 5-1/4 inches of panel space in a standard 19-inch equipment rack, exclusive of Filler Support Bracket FSB-1, -2, or -3 , which should be used when total load exceeds 75 lbs. Filler panels are available for unused spaces. Chassis slides (20-inch, 22-inch and 24-inch) are available for RA 24.

DIMENSIONS:
(inches) 5-7/32H x 19W x 17-7/8D
(mm) 132.6H x 482.6W x 454D
SHIPPING WEIGHT: 7 lbs., 3.2 kg.
RA 37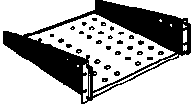 Same as RA 24 except large front lip to reduce bending under load, and 20" depth; mounts only APH, ATE 1/4, 1/2 and 3/4, SN 488, BHK-MG 1/2 and BOP 3/4 rack models. Chassis slides (20-inch, 22-inch and 24-inch) are available for RA 37.





---
Models RA 22-6A, RA 32 are provided complete with a PC 2 connector mounted in each plug-in slot. PC 2 provides an edge connector-to-barrier-strip interface. Model PC 8 may be ordered to adapt the mounting to a cable connector rather than a barrier strip.
RA 22-6A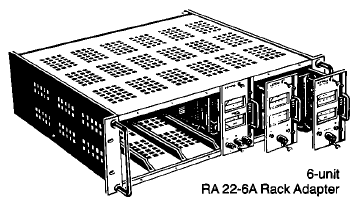 Model RA 22-6A mounts Kepco Laboratory-type power supplies CC and PCX-MAT. This system consists of a mounting frame containing guides for the slip-in mounting of equipment in the one-sixth rack-width format. The panels of such equipment contain captive thumb screws which fasten to the upper and lower lips of the frame. All sources power, output, and control connections are hard-wired to rear-mounted socket adapter PC 2 , which mates with the male PC plugs at the rear of each unit, and which allow the individual models to be unfastened and slipped out of the RA 22-6A enclosure from the front. Six (6) Type PC 2 connector boards are supplied with each RA 22-6A. The six-slot rack housing RA 22-6A is not drilled for slides. Filler panels are available for unused slots.
RA 32
The Model RA 32 mounts CC, PCX-MAT and any one 1/2 rack or two 1/4 rack size models. This combines three plug-in slots of the RA 22-6A with a half-rack space from RA 24 to provide a convenient way of mixing models.

The left section will mount any single "1/2 rack sized" Kepco power supply or two "1/4 rack sized" models. Use filler panels from the RA 24 hardware system.

The right section will accept up to three plug-in power units in the one-sixth rack format. Use filler panels from the RA 22-6A hardware system. A type PC 2 connector is provided for each of the (3) plug-in slots.

Note: RA 32 accommodates Jonathan Model QD 110 slides or equivalent.
FILLER PANELS
Supplied without slide assembly and handle, may be used to fill unused slots in RA 22-6A , RA 32, CA 4 and CA 5.
Model RFP 22-3
Model RFP 22-2
Model RFP 22-1