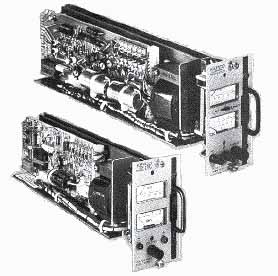 Model CC 22-1M Current Stabilizer (above)
Model PCX 40-0.5 MAT Voltage Stabilizer(below)

These current stabilizers with built-in, dual range current-sensing resistors and a full complement of meters and controls, are 1/6-rack size units designed to plug directly into their own carrier cases and rack adapters. These power supplies offer ultra low noise and ultra low ripple at the output and are MIL-STD-461 compliant. Six Models are available:

*** Check out Kepco's companion Series PCX-MAT Voltage Stabilizer.

The Series CC models have a single control channel with a low-offset front end and exceptional stability. They have two output ranges selected by a panel-mounted switch:

Output current is controlled by a panel-mounted, 10-turn rheostat.

External control can be exercised by a resistance (0-10,000 ohms controls the current through the selected range), or by a control voltage delivering 0-100µA. Control is fully operational; the power supply acts as an inverting d-c power amplifier with current sensitive feedback to the summing junction.

Digital control is available with a Kepco SN digital to analog converter.

Housings - Cases CA 3, CA 4, and CA 5 provide single, double or triple unit housings for Series CC models. Rack mounting is accommodated by the RA 22-6A and RA 32 rack adapters.

Modular versions (without meters) are available; contact Kepco for further details.

Connectors are available for connecting 12 terminal edge connector to either barrier strip or cable connector.