As distinct from analog power supplies for which digital control is an "add-on" (external or internal), these models are primarily digital. There is no analog control means. Presently, models are available in two forms. One form is intended for multiple instrument applications using a serial bus to distribute a single address to multiple power supplies. These include MAT, MST and BOP (with the serial card). The other form is based on direct GPIB connection. These include ABC, BHK-MG and the BOP with BIT 4882 or 4886 card. The BOP High Power have both the serial bus and GPIB ports.
ABC are 100W bench-style power supplies featuring an integrated keypad/GPIB controller with full talk/listen capability. They use zero-up switch-mode topology for efficiency, light weight and small size. They feature power factor correction, universal a-c input and EMI suppression. The challenge in ABC was to replicate the features of traditional linear instrumentation power supplies in a product that uses switch-mode technology for its improved efficiency and all the benefits that flow from that.
ABC integrates a microprocessor to perform several functions, including the power control, keypad interpretation, display and the GPIB interface.
Although designed as bench instrument, ABC can easily be integrated into automatic test systems. The built-in interface permits user control over the voltage,current, overvoltage and overcurrent settings. It reads back the values of voltage, current and the status using SCPI commands (IEEE 488.2).
The ABC has a non-volatile memory in which 40 different combinations of voltage setting, current setting, overvoltage setting, overcurrent setting and time duration can be stored. These can be loaded to form mini-programs or repeating cycles to exercise devices.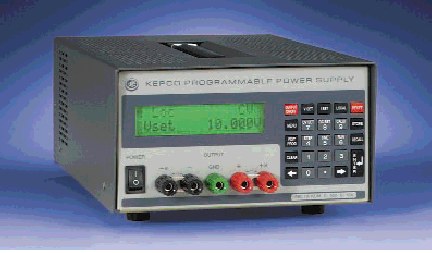 Model ABC 10-10DM
The BHK-MG are suitable for integration into test systems. The series includes 200 watt full rack models and 40 watt half rack models producing 0-300V, 0-500V, 0-1000V and 0-2000V. The MOSFET output stage is linear and is strappable for high speed operation.
The output voltage or output current of the BHK-MG may either be analog-programmed (as an operational power supply) or digitally programmed via the GPIB. To take advantage of the fast-programming capabilities of BHK-MG, the analog programming inputs must be used because the speed of control from the GPIB is not sufficiently fast.
As in the ABC, the microprocessor controls the output, monitors the keypad, monitors the built-in IEEE 488.2 control channel and displays the output on a 2-line, 16-character, LCD readout.
Model BHK 1000-40MG (top) and BHK 1000-0.2MG (bottom)
Kepco's MST combines the small size and efficiency of a high frequency switcher with the gain, stability, accuracy and control of a linear stabilizer. This hybrid approach yields a 200 watt design that can plug in nine (9) abreast into a 4U (7" high by 19") rack housing.
MST is a 200 watt-class programmable instrument-type power supply that combines microprocessor-controlled serial bus communications with high-gain linear stabilization, all driving a 100KHz switcher that incorporates active power factor correction.
MST are packaged in a slender plug-in housing. Each module is self-contained ith its own cooling fans, a-c input connector, fuse and d-c terminals. They mount in a special rack adapter, RA 55. One of the slots in this rack adapter or drawer, may be devoted to a plug-in card that provides the bus-format translation between IEEE 488.2 and Kepco's single address, multiple instrument serial bus. This card is called MST 488-27. Only one such card is needed for every 27 MST modules (three housings of nine each less one slot for the MST 488-27).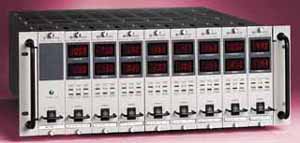 Model MST - 200 Watt
The idea of multiple units in a single housing naturally suggests N+1 redundancy to many engineers and MST incorporates the forced current sharing necessary to implement this. A from-the-front hot-swap capability is also provided.
MST accept a universal a-c input. The user can provide any input from 90 to 264 volts without any form of input selection.
MST have two 3-digit LED output meters and built-in enabling (on-off) and polarity reversal relays. These relays mean that MST will function in two quadrants, providing plus and minus output voltage and current. MST are automatic-crossover voltage and current stabilizers with two 12-bit channels of control;one for voltage, the other for current.
The High Power BOP employs a three-microprocessor architecture. One processor and its attendant programmable logic arrays is devoted to the display and the user- machine interface. A second is responsible for the remote digital interfaces:GPIB (IEEE 488-2), the single-address, multiple-instrument long-range serial bus (IEEE 1118/RS 485) and RS 232. The third processor handles analog functions.
The BOP High Power's display is a 320 x 240 pixel monochrome window that is capable of both analog and digital representations of the actual BOP output. The main channel is displayed along with the appropriate limits. The limit control is selected from the settings menu and allows either a single limit or a pair of limits. The setting that is being controlled by the adjuster is highlighted. The left and right arrow keys are used to move from setting to setting.
The display processor is provided with a separate program memory. The BOP High Power can store settings in 99 memory locations. It supports up to 128 discrete levels and associated dwell times. This permits the creation, storage and recall of arbitrary waveforms which can be run at once or with continuous repetition.
The BOP High Power switching power supplies support three communications protocols. The primary interface is the GPIB (IEEE 488.2). The power supplies also support RS 232 at baud rates of 4.8, 9.6, 19.2 and 38.4 Kilo baud rates. The RS 232 supports both XON-XOFF and CTS/RTS protocols. The RS 485, Kepco's single address, multiple instrument serial bus (IEEE 1118) allows the BOP High Power units to be controlled from any MST 488-27, TMA 4882-27 or Kepco's VXI controller, TMA VXI-27. Older models of these programmers may need to be updated to support these new models. Please consult factory.
Model BOP High Power 10-75MG
The GPIB and serial interfaces primarily use the SCPI language:(Standard Commands for Programmable Instruments). The BOP High Power units support the trigger system, including an external trigger input. They also support the LIST and Memory subsystems of the protocol. The SCPI interface is compatible with the BIT 4886 and BIT 802E cards (these cards provide GPIB and ethernet control, respectively, to standard low power (100W, 200W and 400W) BOP models) and supports separate positive and negative limits. CIIL language support is provided for compatibility with the Kepco MAT series and other MATE system instruments. The GPIB interface provides for an SN emulation mode to provide a fast 12- bit control and also supports the IEEE 488.2 commands, which start with the (*) character.