A 2-line alphanumeric display and five Status LED's provide all visual outputs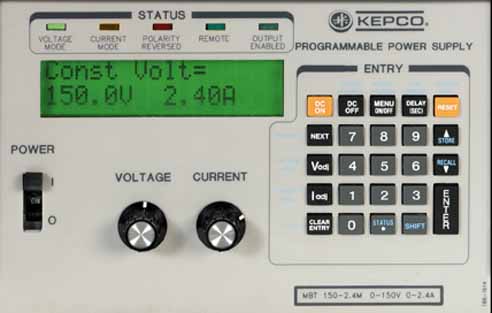 Full linear stabilization for high-precision, low noise output.
Keypad-driven menu control.
Rotary knobs and slew controls are standard in addition to the direct-entry keypad.
Two-line, 16 character per line, LCD display to prompt entry, display messages and read back values.
MBT-G models can communicate directly with as IEEE 488.2 controller and can relay bidirectional commands and responses to and from as many as 26 other power supplies.
MBT-G models can also communicate with an IEEE 488.2 controller through Kepco's single address, multiple instrument long range serial bus.
Full range voltage and current control with 12-bit resolution and accuracy (Voltage mode).
Store and recall up to ten sets of values as routines in battery-backed SRAM. A total of 89 steps may be stored.